From Xavier Barral Editions to Atelier EXB
Modified on: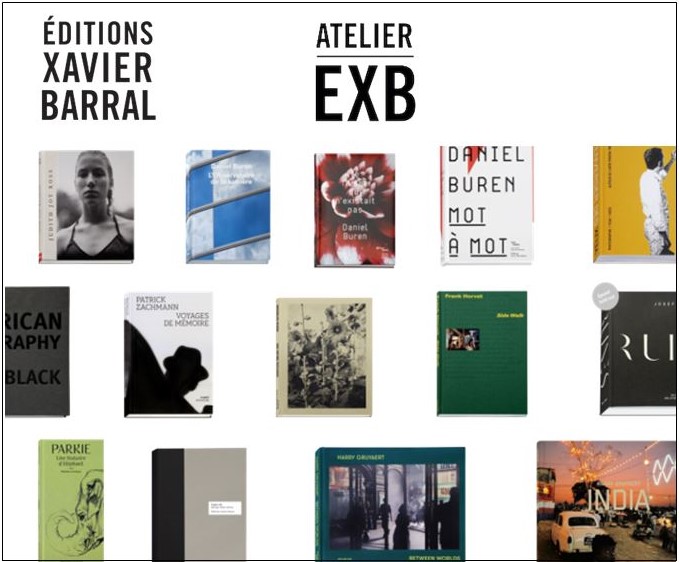 Presentation of the publisher
Atelier EXB / Xavier Barral Editions was founded in 2002 by Xavier Barral, and taken over by the five members of the team (Jordan Alves, Nathalie Chapuis, Yseult Chehata, Charlotte Debiolles et Perrine Somma). The independent publishing house publishes works that address " "new forms of photography contemporary art and science". Their catalogue counts more than 200 works to date.
Graphic designer by training, Xavier Barral (1955-2019) worked in the press as art director (magazine "Impact Médecin"), then collaborated with the magazine "Photographie", and "L'Autre Journal", and "L'Evénement du jeudi". In 1992, he co-founded with his wife Annette Lucas, the visual creation and cultural communication agency Atalante, then in 2002 the publishing house Xavier Barral. The first book published is by Luc Delahaye, "A city". Then followed many names of photography such as Jane Evelyn Atwood, Antoine d'Agata, Raymond Depardon, Josef Koudelka, Sergio Larrain, Martin Parr, Bernard Plossu, le collectif Tendance floue, etc.
But EXB also offers works by contemporary artists such as Sophie Calle, Annette Messager, as well as works by photographic specialists such as Clément Chéroux ou Diane Dufour.
Mathieu Pernot, La ruine de sa demeure, 2022
Matthieu Pernot, Les Gorgan 1995-2015, 2017
Nicholas Nixon, Une infime distance, 2021
Atlas Taddao Ando, 2021
Michael Ackerman, End time city, 2021
Masahisa Fukase, Sasuke, 2021
Masahisa Fukase, 2018
Patrick Zachmann, Voyages de mémoire, 2021
Patrick Zachmann, So long China, 2016
Patrick Zachmann, Ma proche banlieue, 2009
Matt Black, American geography, 2021
Pentti Sammallahti, Me Kasi, 2021
Terri Weifencbach, Cloud Physics, 2021
Marie Bovo, Nocturnes, 2020
Jon Cazenave, Galerna, 2020
Franck Horvat, Side walk, 2020
William Kentridge, The head and the load, 2020
Sergio Larrain, Londres 1959, 2020
Sergio Larrain, El rectangulo en la mano, 2018
Sergio Larrain, 2013
Collectif : Libertés intérieures : photographie Est-allemande, 2019
Nuno Andrade, Ginjal, 2019
Matthias Bruggmann, Un acte d'une indicible violence, 2019
Ludovic Carème, Brésils Sao Paulo, 2019
Ludovic Carème, Brésils Amazonie, 2019
Clément Chéroux, La voix du voir, 2019
Clément Cheroux, Qu'est-ce que la photographie ?, 2015
Pierre-Elie de Pibrac, Desmemoria, 2019
Rodrigo Gomez Rovira, Ultimor Sur, 2019
Louise Honée, We love where we live, 2019
Sébastien Lifshitz, L'Inventaire infini, 2019
Sally Mann, Mille et un passage, 2019
Charlotte Mano, Thank you mum, 2019
Wright Morris, L'essence du visible, 2019
Dominique Teufen, My travels through the world on my copy machine, 2019
Alain Wuillaume, Coordonnées 72/18, 2019
Akihito Yoshida, Une Double Absence, 2019
Antoine Bruy, Scrublands, 2018
Tina Dassault, Michel Trehet, Archisable, 2018
Raymond Depardon, USA, 2018
Raymond Depardon, Méditerranée, 2014
Zbigniew Dlubak, Un héritier des avant-gardes, 2018
Petros Efstathiadis, Liparo, 2018
Jean-Luc Monterosso, La photographie française existe… Je l'ai rencontrée, 2018
Cas Oorthuys, Cas Oorthuys, 2018
Xavier Barral, Philippe Séclier, Auto photo, de 1900 à nos jours, 2017
Kate Barry, The habit of being, 2017
Rinko Kawauchi, Halo, 2017
Rinko Kawauchi, Illuminance, 2011
Josef Koudelka, La fabrique d'exils, 2017
Josef Koudelka, Wall : Israël Palestine paysage, 2013
Susan Meiselas, En première ligne, 2017
Steven Pippin, Aberration optique, 2017
Edward Burtynsky, Eléments essentiels, 2016
Sophie Calle, Ainsi de suite, 2016
Sophie Calle, M'as-tu vue, 2003
Mark Cohen, Mexico, 2016
Mark Cohen, Dark knees, 2013
Diane Dufour (sous la direction de), Images à charge: La construction de la preuve par l'image, 2015
Stéphane Couturier, 2016
Raphaël Dallaporta, Chauvet-Pont-d'Arc L'inappropriable, 2016
Raphaël Dallaporta, Antipersonnel, 2010
Gérard Petrus Fieret, 2016
Louis Stettner, Ici Ailleurs, 2016
Francesca Woodman, devenir un ange, 2016
Jean-Christophe Bailly, L'Intérieur de la nuit, 2015
Anna et Bernhard Blume, La photographie transcendantale, 2015
Anton Corbjin, Anton Corbijn 1-2-3-4, 2015
Olivier Culmann, The others, 2015
Pierre de Fenoÿl, Une géographie imaginaire, 2015
Martin Gusinde, L'Esprit des hommes de la terre de feu, 2015
Bernard Plossu, Voyages italiens, 2015
Agnes Varda, Varda Cuba, 2015
Lendert Blok, Les extravagantes, 2014
Cédric Delsaux, Zone de repli, 2014
Cédric Delsaux, Dark Lens, 2011
Patrick Faigenbaum, L'éclairement, 2014
Martin Parr, Grand Paris, 2014
Jean-Claude Pondevine, Ainsi, 2014
Philippe Seclier, Pier Paolo Pasolini : La longue route de sable, 2014
Stephen Shore, 2014
Yuriko Takagi, Sei, 2014
Antoine d'Agata, Anticorps, 2013
Emmet Gowin, 2013
François Hebel et John Fleetwood, Transition paysages d'une société, 2013
Marloes Krijnen, Le regardeur, 2013
Françis Rocard, Mars : une exploration photographique, 2013
Harry Gruyaert, Roots, 2012
Irene Kung, La ville invisible, 2012
Marc Riboud, Vers l'Orient, 2012
Jane Evelyn Atwood, Rue des lombards, 2011
Dominique Isserman, Laeticia Casta, 2011
Watabe Yukichi, A criminal investigation, 2011
Philippe Chancel, Desert spirit: Definitely Dubai, 2010
Jean Gaumy, D'après nature, 2010
Guy Bourdin, Polaroids, 2009
Patrick Faigenbaum, Santulussurgiu, 2008
Patrick Gries, Evolution, 2008
Désirée Dolron, Exalation : Gaze : Xteriors, 2006
Annette Messager, Casino, 2005
Dominique Darbois, Terre d'enfants, 2004
Luc Delahaye, Une ville : Le quartier du Mirail à Toulouse, 2003
Collection "Des Oiseaux"
Roger Ballen, 2022
Paolo Pellegrin, 2021
Rinko Kawauchi, 2021
Albaran Cabrera, 2020
Yoshinori Mizutani, 2019
Byung-Hun Min,2019
Leila Jeffreys, 2019
Terri Weifenbach, 2019
Graciela Iturbide, 2019
Penti Sammallahti, 2019
Michael Kenna, 2019
Three books to enter the world of EXB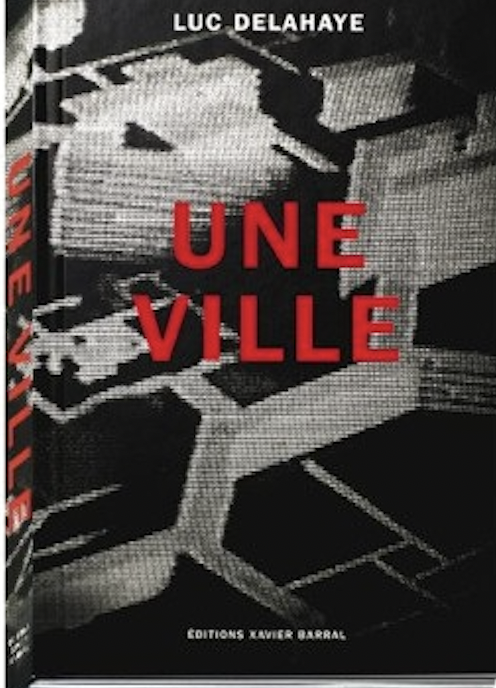 Luc Delahaye, une ville: le quartier du Mirail à Toulouse, 2003 
In this book, the author questions the urbanist utopia that was the Mirail district in Toulouse at the beginning, described in the 1960s by the city's mayor as ' an avant-garde highly humanistic operation" His photographic corpus, accompanied by interviews with the inhabitants of this now underprivileged suburban neighbourhood, was made in 2001, and reflects the failure of the project. The book features images of interiors and the concrete environment that has decayed over the years, punctuated by the words of the residents, and enhanced by archives of the urban planning competition that led to the construction.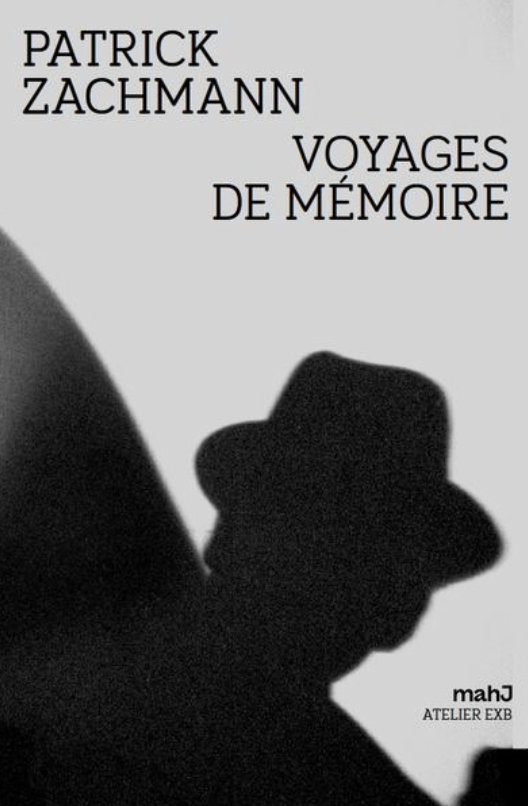 Patrick Zachmann, Voyages de mémoire, 2021
This monograph summarising the artistic career ofPatrick Zachmann (born 1955) was published on the occasion of the eponymous exhibition at the Museum of Jewish Art and History in Paris in 2021. The book retraces his artistic period between 1970 and 2015, through a dozen series: on Judaism ("investigation of identity"), then comes "investigations of memory", with in particular a trip made to Auschwitz in 2000 (but also to Hungary or Ukraine, etc). The book ends with the "journey backwards", a quest to retrace the past of his mother, born in Oujda, Morocco. A form of introspection which at the same time speaks of our collective history.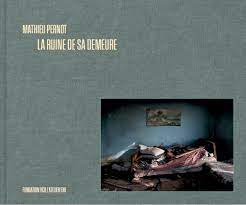 Mathieu Pernot, La ruine de sa demeure, 2022
Mathieu Pernot (b. 1970), winner of the 2019 HCB Prize, proposes a journey to Lebanon, Syria and Iraq, inspired by his grandfather's travel album (which can be seen at the beginning of the book). In 1926, the latter had made his "Grand Tour" to the Middle East, an episode symbolising a long journey made in the 18th and 19th centuries by the upper classes of European society to further their education. Mathieu Pernot develops a form of documentary photography in the image of these three countries ravaged by modern wars, and offers an aesthetic of ruin, affecting both contemporary buildings and thousand-year-old edifices. The book ends with photographs of his family found in the ruins of Mosul.